Hmm...has anyone ever heard of the driving school losing your license photo and you had to go take another one yourself to replace the lost one? Well, now you do. MY FREAKING DRIVING INSTRUCTOR LOST MY LICENSE PHOTO!! Here's what happened. I posted about taking my license photo awhile back. So one fine weekend morning while I was still in slumberland, the driving instructor decided to disrupt my peace by waking me up. Then he delivered the bad news, "Eh the photo ar...your license wan ar...it's lost..."

-_____-|||

So now I'm supposed to go take another one and pass it to him asap to make my L license. Sighs...me and my luck. Fantastic.

On a lighter note, I had classes from 8am till 6pm today. Okay that's not very happy. What I meant to say was, I had some fun slacking and talking in class today. And eating. He he...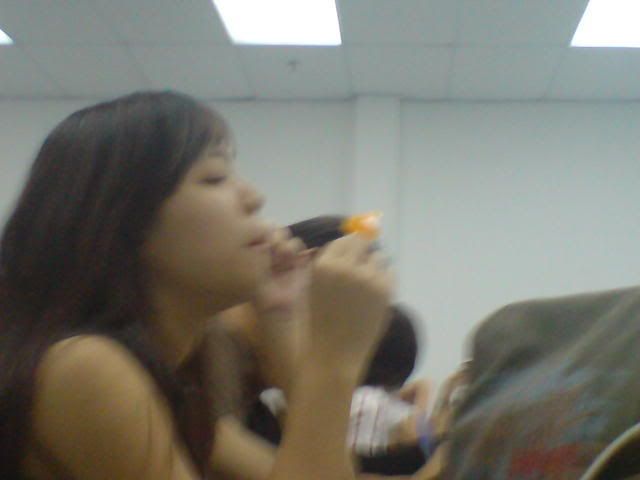 Writing for Business lecture. Not my fault the pic is blur, blame Brian's shaky hands. =p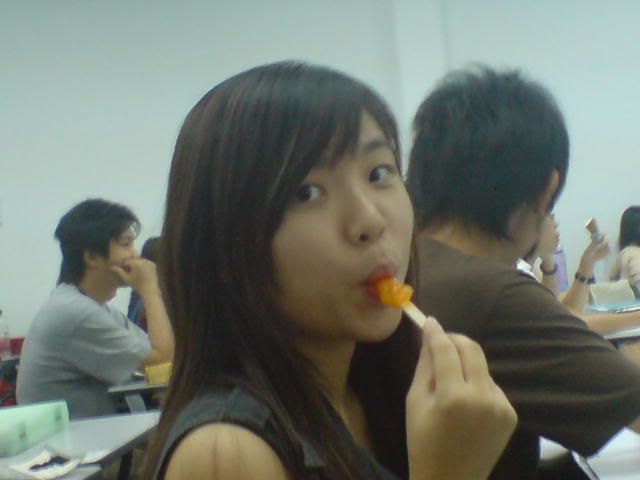 Please ignore the panda eyes. >.<" 8am class remember? Hmm...seems like I never pay attention in this subject huh? I just noticed the last post where I took pics of my friends slacking were also in Writing for Business. >.>

After class, my mom, bro and me went to the SS2 pasar malam (night market) and I bumped into a few of my uni friends there as well! =D I completely forgot they were going to pasar malam as well until I saw them there. Well, technically they saw me first. Haha... Anyway, bought tons of things to eat as I was starving though there's dinner at home. >.<" I was hungry okay?! My last meal was around 11am in the morning. T.T (eh hem, ice-cream is not counted =p) So now, I'm stuffed. And my dinner is sitting in front of me, untouched. Haha...it's been awhile since I last went to the pasar malam. I couldn't stop myself from buying things as there are so many things there! I bought all foodstuff though. =p Oh another thing! I'm watching Vacancy tomorrow with my friends in Cineleisure. Hope it's a nice movie. =D Shall say more about that after I watch it. Best of all, the tickets are free! Thanks PQ Poh Nee !

Score for today :
Cherrie - 3
Meanie obsessed with football - 1

Hmm...shall get started on the meme soon >.>



Was feeling bored the other day hehe...Okay fine, I just wanted to neutralise the 1st two ugly pics. >.>